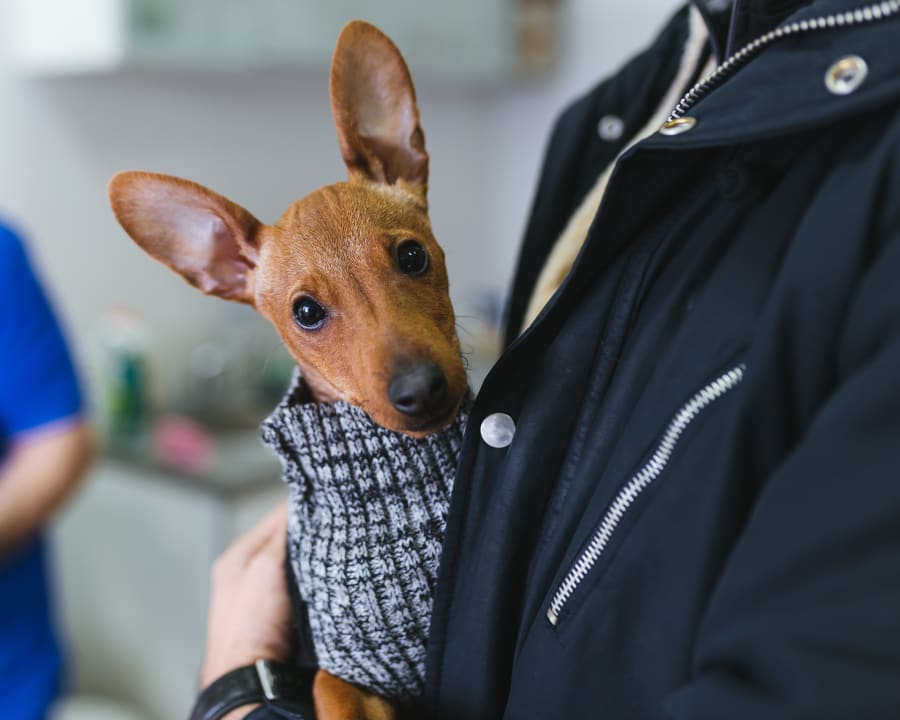 Veterinary Oncology in Springfield
A cancer diagnosis in your pet is a frightening experience that can be associated with stress, concern, and anxiety. The Oncology Service at The Regional Veterinary Referral Center is here to help.
For over 15 years, The Oncology Service has provided individualized cancer care, one patient at a time. We truly enjoy getting to know all of our patients and their families and are committed to help you navigate the decision-making process so as to provide the optimal treatment approach for you and your pet.
This process involves the integration of medical, surgical and radiation oncology treatments with palliative measures that collectively improve quality of life. At The Regional Veterinary Referral Center, our team in Medical Oncology is led by Drs. Kathleen Tidd, Heather Wilson-Robles, Chand Khanna and Bridget Stewart. Our doctors work closely Dr. Pamela White, our Leesburg Radiation Oncologist, to provide fully integrated and comprehensive cancer care for your pet and our patient.
Hope and Innovation in Cancer Care
The Oncology Service is uniquely qualified to assess all opportunities to improve outcomes and quality of life for your pet.
As veterinarians who have been specifically trained in treating pets with cancer, it is our only focus. We are devoted to caring for your pet with cancer in every way possible. Based on our training, experience, and devotion to innovation we have access to more treatment options than anywhere else.
These treatments include conventional chemotherapy, small molecule inhibitors, cancer vaccines, radiation therapy, surgery, and more. We are also able to deliver new treatment options through clinical trials supported by our unique relationship with Animal Clinical Investigation (www.animalci.com) and Ethos Discovery (www.ethosdiscovery.org).
Staging & Treatment Options
After a diagnosis of cancer, additional diagnostic testing can help to determine the extent of cancer in the body, which allows us to optimize treatment options and better predict prognosis.
When staging is complete, our team of specialists will discuss all the appropriate treatment options. Cancer can be treated by several different therapies or combinations of treatments.
Vet Oncology FAQs
The following are some of the most common questions we get about veterinary oncology services at The Oncology Service in Springfield.
How is chemotherapy used for pets?

The good news is that nearly all patients diagnosed with cancer have the potential to receive treatments that can improve outcomes and quality of life. Although we use the same drugs that are used in human oncology, the similarities in the chemotherapy experience stop there.

In general, chemotherapy in dogs and cats is well tolerated. This is in part related to our goal to use protocols that maximize the quality of life, our use of supportive medical treatments and the resilience of our pet animals. Most pets will experience some mild and self-limiting side effects including decreased appetite, energy, and attitude that should not last longer than 24-48 hours. The risk for more significant side effects includes a 1:10 chance of vomiting and a 1:100 chance of life-threatening complications primarily associated with white blood cell suppression (neutropenia) and secondary infections.

Our expectation is that the vast majority of dogs will have an excellent quality of life while on therapy. We are here to help serve you and your pet's needs and look forward to helping you and your family.

We encourage you to learn more about your pet's treatment options by talking with one of our oncologists. Compassion, hope, and innovation is what we are known for, while we extend quality of life, one pet at a time. Please visit our website to learn more about our services, or give us a call to schedule a consultation. We look forward to helping you and your pet.

What can I expect from my first meeting with the Medical Oncology team?

During your initial consultation, your pet will have a thorough history obtained about their disease and concurrent medical conditions.

We will perform a full physical examination, review diagnostic tests that have been performed, and discuss the need for any additional diagnostic tests. After all the information is obtained, we will then integrate all pertinent findings and present an overview of the diagnosis, the treatment options available including the goals, the side effects, and the costs associated with that therapy, and will then help tailor a customized treatment plan to fit your pet's and your family's goals and needs.

Treatment for your pet will then be followed up either with our medical or radiation oncology team at The Regional Veterinary Referral Center or coordinated with your primary care veterinarian.

Many pets diagnosed with cancer have the potential of receiving treatments aimed at addressing the cancer condition and/or improving and maintaining their quality of life. The extent and duration of a treatment benefit is dependent on many factors including the type of cancer, the stage of cancer (i.e. the extent of disease), the available therapies used to treat cancer, and the individual features of the patient.

Many animals with cancer now can be cured or managed long-term and this goal should not be overlooked.